In the tariff application (Master data > Finance > Tariffs) you can create all kinds of tariff types: Selling Tariff, Buying Tariff, IATA Rate, Internal Tariff, Agent Tariff.
Navigating to tariffs
Master data > Finance > Tariffs
The tariff application will show all existing tariffs. To make a new tariff, select New from the menu bar and then select the type of new tariff to be created:
Selling Tariff
Buying Tariff
IATA Rate
Internal Tariff
Agent Tariff
Entering the new tariff details
The example below shows a simple air import fuel surcharge tariff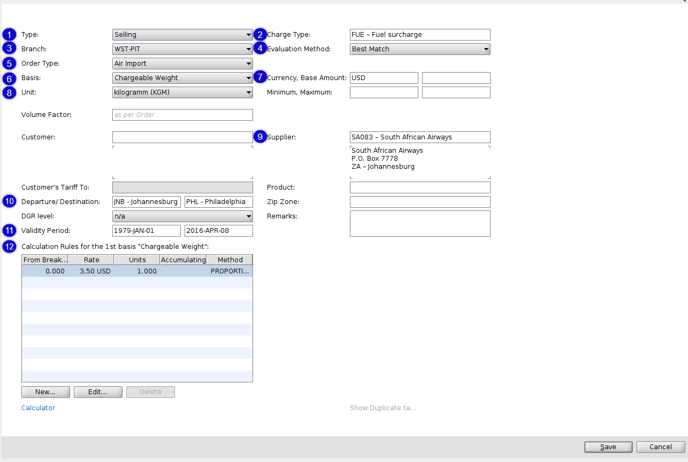 (1) Type: This is automatically set to Selling
(2) Charge Type: This is set to Fuel Surcharge, since the tariff will apply to this charge type
(3) Branch: This is set to the local branch since it does not apply to the forwarders other branch
(4) Evaluation Method: Uses the default Best Match since this is the usual method for calculating a tariff.
(5) Order type: Set to Air Import because this tariff will only apply to air import shipments
(6) Basis: Chargeable Weight. Since this is a freight related tariff, the method for calculating such tariffs is to use the chargeable weight of the shipment.
(7) Currency: USD which is the local currency
(8) Unit: Use KGs since this is how chargeable weights are calculated in airfreight
(9) Supplier: The airline South African Airways is shown as the supplier in order to apply this tariff only to shipments arriving via this airline.
(10) Departure/Destination: In order to restrict this tariff to a port pairing, the departure airport "JNB" and destination airport "PHL" are entered to restrict this tariff to flights between Johannesburg and Philadelphia
(11) Validity Period: These fields are used to specify the period for which the tariff is active.
(12) Calculation Rules: The tariff calculates $3.50 per Kg (Chargeable weight). Use the New button to enter new breakpoints and the Edit button to adjust an existing breakpoint.
Depending on your screen configuration, you may need to scroll down the window to see all the content.